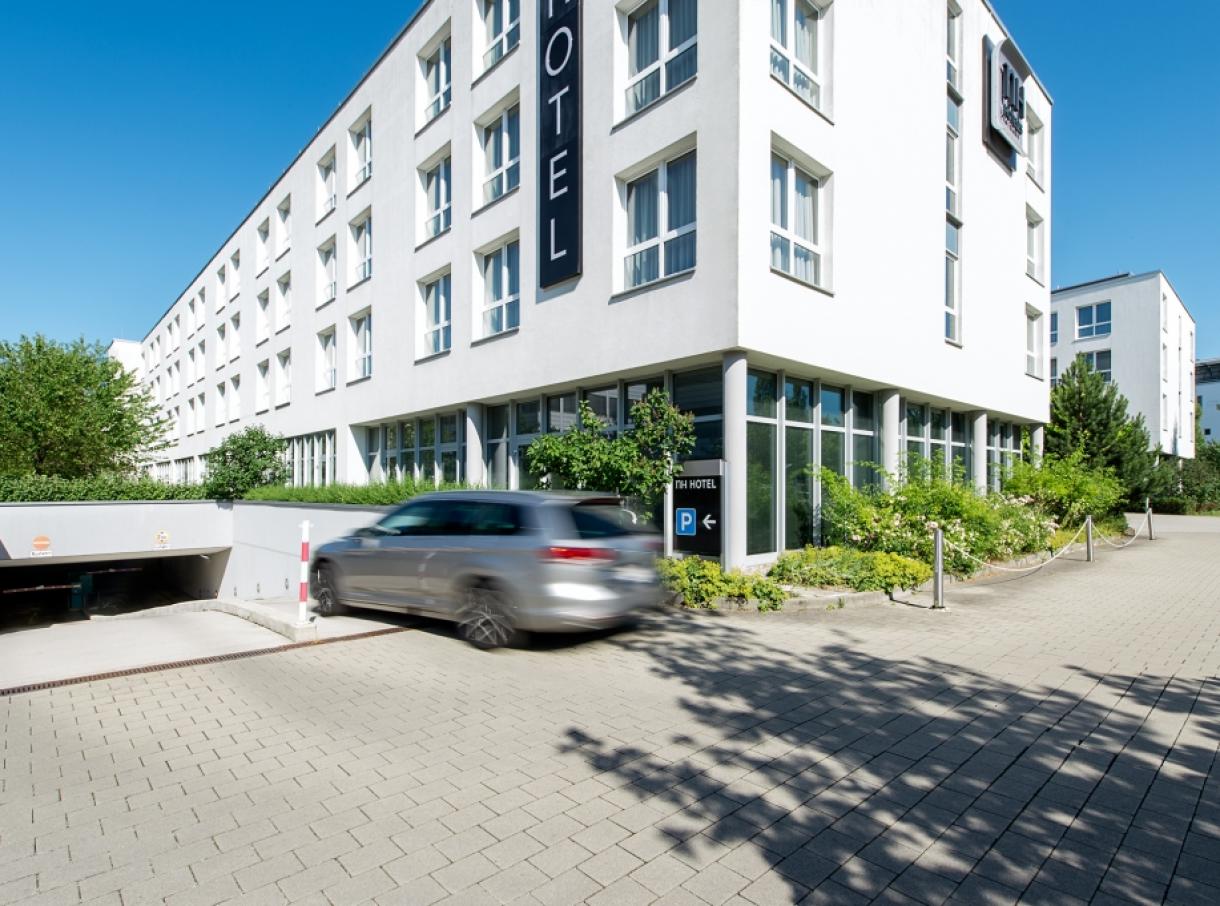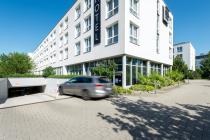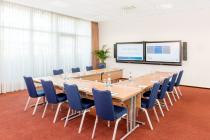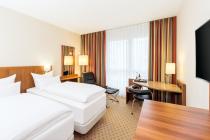 Meeting Rooms & Combinations

48 PAX

110 PAX

180 PAX

88 PAX

52 PAX

24 PAX

30 PAX

50 PAX

40 PAX

16 PAX
Rom+Paris+Madrid
Size: 611.00 sqm

100 PAX

400 PAX

550 PAX

310 PAX

120 PAX
Paris+Madrid
Size: 419.00 sqm

76 PAX

250 PAX

310 PAX

210 PAX

100 PAX
Rom+Paris
Size: 361.00 sqm

82 PAX

220 PAX

330 PAX

180 PAX

80 PAX

48 PAX

130 PAX

210 PAX

120 PAX

56 PAX

48 PAX

80 PAX

140 PAX

72 PAX

52 PAX
Wien+Athen
Size: 100.00 sqm

32 PAX

50 PAX

90 PAX

50 PAX

20 PAX
Berlin/Brüssel/london/Amsterdam/Wien/Athen
Size: 50.00 sqm

16 PAX

22 PAX

40 PAX

n/a PAX

10 PAX
Description
**Welcome to NH Munich Ost Conference Center**

*An elegant business hotel at the Munich trade fair*

At NH Munich Ost Conference Center we combine first class comfort with luxurious design. We strive for excellence to meet our guests highest expectations. All of our 222 rooms are modern, comfortably furnished, and available in different room categories. Beds have extra large, thick and cosy innerspring mattresses that have been custom built for the NH Hotel Group. Every room has been been decorated with refined taste: bright, pleasant and stylish, with soothing colors, thick carpets and elegant wooden furniture, hence creating a welcoming ambience of elegance. We would like for you to feel at home.

*Strategically located and easily accessible*

NH Munich Ost Conference Center is situated strategically to get you to the trade fair quickly and comfortably: either with our shuttle bus or via car or taxi with the highway A8 and A9 in close proximity. Moreover, you can also arrive very easily with public transportation. If you arrive with your own vehicle, our parking is complimentary.

*Modern conference rooms for any occasion*

Whether you're organizing weddings, large scale conferences or corporate events all of our 10 elegant conference rooms are equipped for up to 550 guests and possess the most reliable and state of the art communication technology. For large conferences or small parties, all conference and event rooms have bright daylight and a lot of space to serve as showrooms for cars and other large items. It is important for us to make sure everything works effortlessly and smoothly. We value and facilitate communication on all levels and will be delighted to help and advice you further.

Our personal event manager and our expert service manager will be happy to assist you with tailor-made solutions. Let us help you plan and organize wedding ceremonies or business receptions and be confident that our professional first class business team will assist will all of your needs before or during your meeting. We would like to see you with smiling faces.

During coffee and lunch breaks we offer your guests delicious homemade food aiming for a beautiful presentation. Also, ask us to help you create your own individual menu, thus turning your day into a memorable event!

*We want you to feel at home*

We would like to meet your individual needs on the highest level and exceed your expectations. Therefore relaxation and recreation plays an essential part in our services.

Spend some exclusive personal time relaxing in our pleasant wellness area. After an eventful or stressful day you will be happy to explore our sauna, steam sauna, as well as our modern gym, open 24/7.

Our goal is to treat you to healthy and scrumptious fresh food. An elaborate and tasteful breakfast will help you start a new day. We serve our buffet daily with a large variety of juices, bread rolls, yoghurts, cheeses and fruits as well as hot prepared dishes. If you check out early, please notify our staff and we will prepare an early bird breakfast for you.

Our modern restaurant serves lunch and dinner with a large variety of regional and international dishes. In the summertime, our chefs can also prepare your delicious meal on our two beautiful outdoor terraces. The main terrace is adjacent to the restaurant and has lots of benches for a classy pub style picnic. A perfect setting for big group events or BBQs. The other terrace, in front of the hotel is equipped with comfortable lounge chairs ideal for relaxing.

Please indulge yourself with a variety of German and Spanish wines, refreshing cocktails and snacks in our lounge bar until 1am. At NH Munich Ost Conference Center we would like to make your stay unforgettable.

*Other requests?*

• Business Center with Air Conditioning
• Catering for any size of groups
• Competent Concierge-Service
• Gym with cardio equipment
• A large Wellness-center with steam sauna
• Recreational area
• Handicapped accessible rooms
• Secretarial Services
Wellness
*Give your body a treat*

Our gym and spa area welcomes you daily. Relax or train before or after work with our new running and cardio machines. For all of those who seek to relax we offer you a clean and enjoyable spa area.

*Get ready to relax*

Try our sauna or steam bath, or alternatively you can just chill out in the relaxing area.

Moreover, you can also rent a bike and explore the city.
Promotions
Für jede Veranstaltung die passende Pauschale
Unsere Tagungspauschalen Meetings & Events sind unsere Leidenschaft.
Ob Kongress, Jubiläum oder Produkteinführung – bei uns sind Sie an der richtigen Adresse.
Wählen Sie einfach eine unserer fünf Tagungspauschalen und buchen Sie ganz flexibel die passenden Add-ons dazu.
Schon ab 10 Personen.
Valid 19/07/2022 - 31/12/2023
Global Mice Promo
Buchen Sie Ihre Veranstaltung bis zum 31. Dezember 2022 und richten Sie diese bis zum 31. März 2023 aus.

Wählen Sie die Vorteile , die Ihren Anforderungen am besten entsprechen.
Geben Sie bei Ihrer Anfrage einfach den Angebotscode "BENEFITS" an.
• 2 Vorteile bei Tagungen mit einem Gesamtwert von 5.000 € bis 75.000
• 3 Vorteile bei Tagungen mit einem Gesamtwert von mehr als 75.000

Vorteilezur Auswahl
• Willkommensgeschenk
• Kostenfreie Nutzung von Büro oder Abstellräumen
• Ein kostenfreies Zimmer je 30 Teilnehmer
• Kostenfreier Begrüßungsempfang
• Kostenfreier Kaffee & Tee zur Begrüßung
• Upgrade auf ein Tagungspaket einer höheren Kategorie
• Upgrade auf eine Kaffeepause einer höheren Kategorie
• Premium WLAN
•"Try before you buy": Ein Angebot zur Hotelbesichtigung

Werten Sie Ihre Tagung mit diesen zusätzlichen Leistungen auf:
• Kostenfreies WLAN in Zimmern und Tagungsräumen
• Flexible Geschäftsbedingungen
• Virtuelle Besichtigungen
• 3D Meeting mit einem virtuellen Planer in ausgewählten Hotels
• CO2 Ausgleichsprogramm für nachhaltige Tagungen

So können Sie das Angebot buchen:
• Bitte wenden Sie sich an Ihren lokalen NH Vertreter oder
• per E Mail an nhgroupsales.de@nh hotels.com
• Senden Sie Ihre Anfrage über nh hotels.de/meetings
• Oder über Ihren traditionellen Vertriebskanal

Geben Sie bei Ihrer Anfrage einfach den Angebotscode "BENEFITS" an.

Das Angebot gilt für Tagungen, deren Buchung zwischen dem 1 Oktober und dem 31 Dezember 2022 bestätigt wurde und die zwischen dem 1 November 2022 und dem 31 März 2023 stattfinden. Um von diesem Angebot profitieren zu können, muss die Tagung mindestens einen Gesamtwert von 5 000 €/USD aufweisen.
Angebot, Zimmer und Veranstaltungsräume gelten vorbehaltlich der Verfügbarkeit und unterliegen den Allgemeinen Geschäftsbedingungen der NH Hotel Group.
Das Angebot kann nicht mit anderen Angeboten kombiniert werden. Der Gesamtwert muss in einem Hotel ausgegeben werden. Das Angebot kann nicht mit anderen Buchungen oder bereits gebuchten oder durchgeführten Veranstaltungen kombiniert werden NH behält sich das Recht vor, dieses Angebot jederzeit und ohne Vorankündigung zu ändern oder zurückzuziehen. Das Angebot gilt für alle berechtigten Buchungen, einschließlich Buchungen durch Reisebüros und andere berechtigte Vermittler Der Tagungsveranstalter ist dafür verantwortlich, alle Vorteile im Rahmen dieses Gruppenangebots offenzulegen.
Valid 17/10/2022 - 31/12/2022